This section showcases some of the exciting work that has been happening across the region!
Ambassadors for Gender Equality & Respect!

Ambassadors for Gender Equality & Respect is a youth focused project currently being implemented in the Upper Yarra region of the Yarra Ranges. The project is engaging students from three secondary schools in a series of workshops on the importance of equality for women, men and all genders, and the role young people can have as change makers in the community and the world. Students will not only explore gender equality, but they will develop skills in project development and activism. Participants will also get the chance and will be supported to develop their own activities to raise awareness and engage their peers in this important issue.
The project also involves a co-design process, and students will use their voice and help develop a gender equality ambassador resource kit that other schools can use to support young people to be ambassadors in the future. Stay tuned for this!
The project has been designed to complement the current 'Rights, Resilience and Respectful Relationships' roll out and other respectful relationships curriculum, and provide an opportunity for students to make change in their school and the wider community.
The Ambassador's for Gender Equality & Respect project has been developed by Inspiro, GenderWorks, Yarra Ranges Council, EDVOS, Cire Services and Community School, Little Yarra Steiner School, Upper Yarra Secondary College, Eastern Health and Women's Health East. The project has been funded by Yarra Ranges Council.
For more information, contact Rachel Messer, Senior Health Promotion Officer at Inspiro: rachel.messer@inspiro.org.au
#GE4US Campaign for the 16 Days of Activism
In 2017, Women's Health East coordinated the regional social marketing campaign #GE4Us (Gender Equality 4 Us). #GE4Us engaged with a diverse group of 8 ambassadors from across the eastern region and asked them to share what gender equality means to them and how they see it in action. Their stories were shared on social media by partner organisations across the region to raise awareness in the community of what gender equality means in day to day life and the actions we can take to achieve it.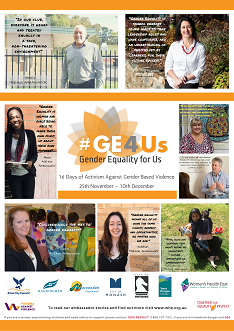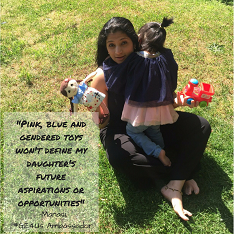 Read our ambassador stories and more about the #GE4Us campaign here.
BE THE CHANGE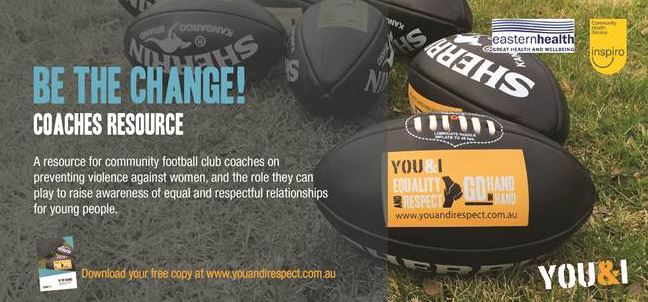 Inspiro and Eastern Health are pleased to launch the Be The Change! football coaches resource. This resource was developed as a part of the YOU&I initiative, which aims to prevent violence against women by raising awareness of equal and respectful relationships among young people in the Yarra Ranges. Be The Change! provides information for football coaches in community football clubs on violence against women, and the role a coach can play to positively influence players around this topic.
The resource includes information on:
Raising awareness of equal and respectful relationships
The role of a football club and coach in creating equality and respect
How to respond to disclosures of violence
Family violence and abuse support services
Other resources and details for football clubs, coaches, parents and young people
This resource is being distributed to football coaches in the Yarra Ranges, and is also available from www.youandirespect.com.au for other community sporting club coaches.
If you would like any further information please contact Rachel Messer (Health Promotion Officer, Inspiro)- rachel.messer@inspiro.org.au; or Josette O'Donnell (Senior Health Promotion Officer, Eastern Health)- josette.o'donnell@easternhealth.org.au
The YOU&I initiative is a partnership between Inspiro, Eastern Health, Yarra Ranges Council and Women's Health East.