Superheroes of SRH: Belinda Payne
Prevention and Early Intervention Regional Coordinator,
Gunditjmara Aboriginal Cooperative Limited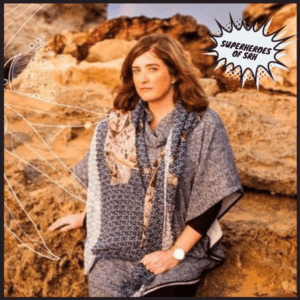 1. How are you working to improve sexual and reproductive health?
I work across the four Aboriginal Health Organisations in the South West. I am to increase Aboriginal people accessing Health Assessments, Increase Sexual Health literacy and access, increase cancer screenings (Cervical, Breast and Bowel)
I utilise culturally safe events for example we held a Youth Day with local schools where we had Indigenous Leaders yarning to the kids about leadership and history, basketweaving and traditional Aboriginal Games. In this setting we also provided many Health Checks, Sexual Health Checks, Immunisations and Flu Vaccinations.
2. What do you love most about your work?
I love working with my mob and I get such a buzz when I can see that people understand that we use the strengths of our communities to increase our health. I don't focus on the negatives there is so much positives and resilience that we can utilise to ensure that a healthy lifestyle including issues around sexual and reproductive health are a priority.
3. Why is your work so important?
To advocate for, to facilitate, to collaborate with and to educate Aboriginal people is vital for us to improve our own health in a way that is culturally safe with a deep understanding of the intergenerational traumas, systemic racism and passion is what is needed to ensure we live longer healthier lives. Not much more important to me.
4. What do you think are the biggest sexual and reproductive health issues facing Indigenous women that you work with?
Access to culturally safe health professionals that are willing to work with a understanding of trauma and vulnerability.
Learn more about Gunditjmara Aboriginal Cooperative
https://whe.org.au/wp-content/uploads/WHE-logo-1000.jpg
0
0
sjmatthews
https://whe.org.au/wp-content/uploads/WHE-logo-1000.jpg
sjmatthews
2019-08-16 10:14:17
2020-05-06 13:55:17
Superheroes of SRH: Belinda Payne