How to become a menopause friendly workplace
Women's Health East is delighted to share our resource "How to become a menopause friendly workplace". This is a free resource for Australian workplaces that includes information on menopause, why this is a workplace issue, practical tools and strategies, a policy template and links and references to best practice resources in Australia and beyond. The target audience is managers and HR professionals of any gender, and workers undergoing peri- or menopause.
Why is this important?
Although menopause will be experienced by almost 50% of the population, there is relatively low awareness and understanding of this topic. Menopause is rarely talked about within wider society, due in large part to the stigma and taboo surrounding it. As a result, menopause remains relatively undiscussed in workplaces, not even featured within conversations about employee health and wellbeing. Workplaces, however, provide an important setting in which to support employees through the menopausal transition.
How does this resource assist?
This resource has been designed for organisations to better support individuals experiencing perimenopause or menopause. It provides information and practical resources to support staff experiencing menopausal symptoms at work and helps managers and HR professionals understand how they can provide the right support to their workforce. The resource aims to assist workplaces to create an environment where everyone enjoys equal opportunity to achieve their best at work regardless of age, gender, or experience of menopause.
Download here: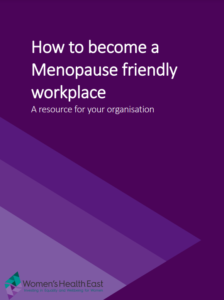 Women's Health East are interested in your feedback on this resource. If you'd like any more information or assistance with how to implement some of these practices into your workplace, please contact Ada via acastle@whe.org.au
https://whe.org.au/wp-content/uploads/staff-blog-thumbnail-Instagram-Post-Square.png
1080
1080
administration
https://whe.org.au/wp-content/uploads/WHE-logo-1000.jpg
administration
2023-02-10 14:25:06
2023-02-15 10:02:44
How to become a menopause friendly workplace