Violence against women is prevalent and serious, and
the evidence tells us that it is preventable. To end violence
against women we need long term, coordinated efforts
to address the drivers of violence across all levels of our
society. We need to reach everyone in our community in
the places in which they work, learn, live and play.
The evidence has consistently highlighted that it is not
possible to end violence against women with disparate
initives, short-term funding and one-off projects.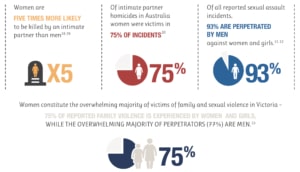 Since 2012 the TFER Partnership and Strategy have
strengthened the Region's ability to prevent violence against
women, by supporting a shared vision and aligned mutually
reinforcing initiatives over time. TFER provides a mechanism
to coordinate and integrate primary prevention activities in
order to maximise efforts, and minimise duplication.
Although TFER partners have worked together over the
last four years to drive and evaluate prevention of violence
against women activities, there is a clear need for sustained
action. Violence against women remains unacceptably
prevalent in our community and has alarming health and
wellbeing impacts on women, children and communities.
For these reasons, the prevention of violence against
women remains a shared regional priority.