Feedback from regional partners has been instrumental in informing all stages of the development and direction setting of Together for Equality & Respect, with forums being one vehicle for engaging with partners in the development of the Partnership
March 2019 Forum
On Tuesday the 12th March, TFER Partners came together for the Responding to Disclosures: An Event for Prevention Practitioners Forum, held at Maroondah Federation Estate, Ringwood.
The objectives of the forum were to:
Increase prevention workers knowledge of supports available in the eastern metropolitan region for women who have experienced violence
Increase prevention practitioner confidence in utilising referral pathways
Provide information and techniques for handling disclosures
Emphasise self -care, and boundaries for prevention workers both when handling disclosures
Speakers on the day included:
Nicole Simpson, Speaking Out Advocate
Anthony Mercer, Victoria Police
Rebecca O'Donnell, Eastern Centre Against Sexual Assault
Doreen Stove, Doncare
Rachel Foster, Boorndawan Willam Aboriginal Health Services
Michael, Eastern Community Legal Centre
Jess Bishop, Migrant Information Centre
Gabrielle H, Eastern Domestic Violence Service
Brianna, Eastern Domestic Violence Service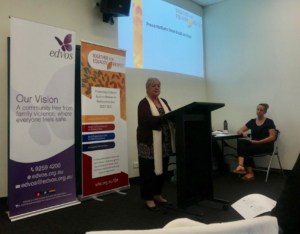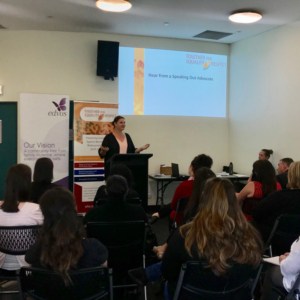 Many thanks to those who spoke and attended this event
February 2019 Forum
TFER Partners came together for the TFER Expanding Knowledge in PVAW: LGBTIQ Women, Women Online and Older Women Forum on Thursday the 28th February at the Whitehorse Centre, Nunawading
Guest Speakers included:
Jill Exon and Kate Gibson from Eastern Community Centre, gave an informative presentation around the intersection of gender, ageing and elder abuse
Philomena Horsley from The University of Melbourne, gave an engaging presentation around the experiences of violence for LGBTIQ women
Lara Gerrand from Women's Health East, discussed the Voices for Equality and Respect Project, a project that aims to fill the gaps in research around LGBTIQ young people's understanding of respectful relationships
Jayde McBurnie also from Women's Health East, discussed the paper, Women Online: Intersection of Technology, Gender and Sexism
Lastly, Lauren Gurrieri from RMIT University, gave a capturing presentation around gender inequality and gendered harassment online, discussing her own research and findings in this space
The forum was an opportunity for TFER Partners to improve their knowledge and understanding of violence against women, with a greater focus on intersectionality
April 2018 Forum
TFER Partners came together for the TFER Action Planning workshop on the 19th April in Box Hill.
Action Plan Workshops overall included:
1 values workshop
3 sector specific action workshops
and 1 whole of TFER workshop
These workshops helped to inform the TFER 2017-2021 Action Plan. The fantastic discussions, contributions and learnings from TFER Partners are being busily consolidated into a draft Action Plan by Women's Health East, which once ready will be sent out for consultation.
December 2017 Forum
At the December forum the 2017-2021 Strategy was launched.
The Leadership Group of the Together for Equality & Respect Partnership, and Women's Health East would like to thank everyone who attended the launch of our 2017-2021 Strategy.
The event included the premiere viewing of "Busting the Myths to Change the Story"
The shared vision of Busting The Myths is 'to ensure that women's lived experience of violence validates and reinforces the current theory driving efforts across Victoria and Australia to prevent violence against women'.
The 'Busting the Myths' project captures the stories of seven women and their experience of men's violence. The project is a partnership with Women's Health East Speaking Out Advocates Program & EDVOS, and it highlights how these women's lived experiences expose and challenge some of the most commonly held social myths about violence against women.
This first video is a compilation of a small portion of the stories these women have shared. Even in this short 10 minute snapshot, it is clear that the foundations of these myths are built upon, and thrive on entrenched social structures, beliefs and behaviours that drive gender inequality, and which in general go unnoticed and unchallenged by society
This Video was produced by the Outer East Primary Care Partnership in partnership with Women's Health East & EDVOS.
You can watch the video, and learn more here.
May 2017 Forum
In May, the Together for Equality & Respect Regional forum was held at the Whitehorse Centre in Nunawading. This forum was titled "Creating Confidence: Working with people from culturally and linguistically diverse communities to prevent and respond to violence against women. This forum was presented by the Together for Equality & Respect partnership in partnership with the EMR Regional Family Violence Partnership.
Guest Speakers included:
Helen Kapalos: Chair of the Victorian Multicultural Commission
Dr Karen Block Dr Regina Quiazon and Mansai Wagh-Nikam presenting their findings from the ASPIRE-Project
Dr Adele Murdulo from the Multicultural Centre for Women's Health
Sarah Johnson Regional integration coordinator, northern integrated family violence service
Anita Thomas from Carrington Health presenting 'Tailoring Prevention of Violence against Women for CALD communities the experience of baby makes 3″
The forum was an opportunity for TFER Partners to  improve their knowledge and practice when working with people from CALD communities.
Many thanks to all who attended and learned from the fantastic presenters.
February 2016 Forum
The latest Together for Equality & Respect regional Forum was held on Wednesday 3rd February at Federation Estate in Ringwood. Kim Webster, researcher and policy adviser, spoke about Change The Story, the new Our Watch National Framework to Prevent Violence against Women and their Children, and TFER partners were asked to give their input into what they would like to see included in the proposed Victorian Gender Equality Strategy.
The afternoon provided an opportunity for partners to gain a better understanding of the new preventing violence against women framework and it's implications for their work, and facilitated the gathering of ideas on how we can achieve gender equality in Victoria, which will guide the TFER submission to the Gender Equality Strategy.
Many thanks to all those who attended. A special thanks to the Outer East PCP for generously organising the venue for us.
Resources from the day can be found here.
December 2015 Leaders' Breakfast
On 2nd December over seventy Mayors, CEO's, Directors, Councillors, School Principals and Managers from across the Eastern Metro Region, attended the Together For Equality & Respect Leaders' Breakfast.
At the breakfast participants heard presentations from The Honourable Minister Fiona Richardson, Minister for the Prevention of Family Violence and Minister for Women, Ms Catherine Andrews, ambassador for the Stella prize for women's literature, Dr Victor Sojo from the Centre For Ethical Leadership at the University of Melbourne and Daniela, Advocate with the Speaking Out program.
Held during the 16 Days of Activism Against Gender based Violence, the focus of the morning was to build on the already strong commitment to the prevention of violence against women in the Eastern Metropolitan Region. Forum participants were invited to share their leadership commitment to PVAW and they also contributed to the EMR #HandsUp for Gender Equality campaign for the 16 Days of Activism.
Many thanks to all those who attended the breakfast. Forum resources including presentations, can be found here.
March 2015 Forum
The March TFER Forum was held on Thursday 26th at Manningham Function Centre, with a focus on social marketing evaluation in the morning and organisational change for gender equity in the afternoon session. Guest presenter Blythe Chidgey from Knox City Council gave an engaging presentation on social marketing evaluation, and members from the TFER Evaluation Working Group shared some of the evaluation tools available for partners to use. Inspiro and Eastern Health gave an overview of the YOU&I initiative and the social marketing strategies that were used in the project.
Women's Health East CEO Kristine Olaris spoke about the key success factors for implementing organisational change and Scott Holmes from YMCA Victoria then shared his experience of the Y Respect Gender Project in his presentation on organisational change for gender equity in practice. The day concluded with a panel discussion with speakers from across the region.
It was great to see so much enthusiasm from the region! A special thanks to Manningham City Council for generously organising the venue for us.
Resources from the day, including presentations, can be found here.
August 2014 Forum
The fourth TFER Forum focused on social marketing and effective communication of messages for the prevention of violence against women. Facilitated by Berni Murphy, the session gave organisations across the East an opportunity to reflect on and share plans and ideas they may have for White Ribbon Day and the 16 Days of Activism against Gender-Based Violence, and talk to others about how to enhance reach and campaign effectiveness through a regional approach to messages.
The session covered key elements of effective social marketing, gave examples of global and local social marketing campaigns and facilitated understanding of audience targeting, key message development and strategies & tools for getting our message out there. Have a look at the September Communique for more info on what happened at the forum!
Find out more about how you can get involved in the regional wide approach to the 16 Days of Activism here.
March 2014 Forum
The March 2014 provided partners with an opportunity to meet with others working on similar projects and to discuss ideas for evaluating their work. For more details, see the April Communique.
June 2013 Forum
An Action Planning Forum in June 2013 brought together Strategy partners who endorsed that an integrated planning approach be used in the development of a Together for Equality & Respect Action Plan. Have a look at the June Forum Communique for more information.
December 2012 Forum
A facilitated consultation forum in December 2012 was attended by the seven eastern region Local Governments, Community Health Services, Primary Care Partnerships, a Medicare Local and representatives from the Regional Family Violence Partnership Prevention Working Group.
The participants assisted in the development of the Strategy vision, and helped to refine the strategic directions and goals. From this forum, and previous consultation, the Together for Equality & Respect Overview Document was developed.